INTEGRITY DIRECT — LONGEVITY PLANNING REFERRAL PROGRAM
Longevity Planning
The Missing Link in Retirement Plans
We Americans are living longer than ever before. This increase in longevity comes with many important decisions associated with today's longer life expectancy. Longevity Planning integrates health care, financial management, and personal life goals into a strategy that is geared to enhance the security and dignity of each individual's mature years.
Whether you're an Individual, Financial Advisor, Broker, or Insurance Professional specializing in Final Expense, Medicare, Annuities or Life Insurance… chances are the missing link in your client, friend or family member's financial plan is Longevity Planning.

Did you know?
1 of 4 Americans age 65 will live into their 90s
70% of people over age 65 will require some long term care services at some point
Women are especially at risk.  At age 65, they have a 79% chance of needing care
Married couples have over a 90% chance that one of them will need care
71% of Americans worry about having enough money to last their lifetime
Why People Need To Know About Long-Term Care
It is not an advisor's responsibility to sell or recommend insurance to every client, but it is becoming increasingly more important to make sure you are having the long-term care conversation with every referral
There is a fiduciary responsibility to talk about risk, whether it is investment risk to a portfolio or the risk of extended health care
A fiduciary's duty typically arises when a person or organization is placed in a position of trust for the benefit of another
Be the resource. If not you, who? If not now, when?
That's where Integrity Direct comes in. 
√ Sign up to become a partner
√ Send us your referrals
√ Get paid!

It's that easy!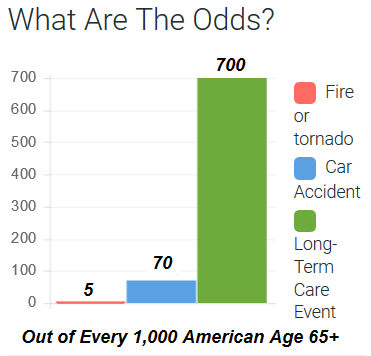 ---
We insure the important things.
What about longevity protection?
When one of the toughest days of
your life happens… needing care
Be Prepared by Planning Ahead!

GREAT REFERRAL FEES!
Mutual of Omaha Long-Term Care Example:
You refer a 65-year old couple from Illinois.  With the help of our specialist, they decide to protect themselves by purchasing long-term care policies with average annual premiums…
You receive $1,200 Referral Fee